"Sold Over Asking" -- a phrase those watching the Toronto housing market hear quite frequently these days.
This phenomenon has captured the attention of the news media, who have crafted such intoxicating headlines as "GTA house goes for $400,000 over asking: 'It was like a rock concert'" as seen in the Toronto Star, and "Toronto house sells for more than $1M over asking" as reported by Global News. Agents also cash in on the glamour, adding massive "Sold Over Asking" banners atop their sold signs
It has also been one of the many driving forces and motivations for On The Block to change the way real estate is bought and sold in Ontario.
With homes regularly being "Sold Over Asking," what does the phrase really mean?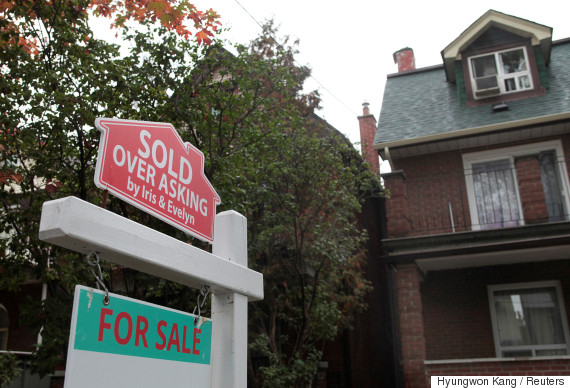 A "sold over asking" sign is on display on a house for sale in Toronto, Ont., Oct. 21, 2016. (Photo: Hyungwon Kang/Reuters)
In 2016, out of a total of 17,862 homes sold in Toronto, 6,583 sold over asking, or 37 per cent. Markham had the second-highest numbers, Richmond Hill third.
The number of freehold homes, which include detached, semis and townhomes, that sold by at least 10 per cent over asking last year clocked in at 16,000 in the GTA -- up more than 160 per cent from 2015. That's 1 in 5 (22 per cent).
Likewise the number of GTA freeholds that sold by at least 20 per cent over asking reached 4,800 or six per cent -- up more than 251 per cent from 2015.
Traditionally priced homes in the GTA are becoming few and far between. In a market where inventory is low and demand is high, prospective buyers are bound to see higher than normal prices. The homes in the aforementioned news headlines both sold for market value.
"Up market" or "Down market", it's all relative, and it doesn't matter - because sellers and listing agents are loving this flurry of fruitful activity.
In many cases, realtors and their seller clients are strategically pricing their homes competitively and letting a property go to the open market to create a sense of affordability and desire. This makes the terms "asking price" and "listing price" irrelevant. Case in point: Some realtors are listing their properties at $1, so those will obviously sell over asking. Further, introducing terms such as "holding back" and "offer date" have become the new normal, creating an auction-like setting for prospective buyers, which leads to the coveted "Sold Over Asking" designation.
On one hand, sellers and listing agents are loving it, as they are obtaining record-setting prices for homes in record-setting times. It's important to remember that despite a 'flattening' of pricing in recent months, homes in hot areas continue to set offer dates, and price misleadingly low.
Prospective homeowners hoping to buy, however, are faced with largely stressful, emotional experiences in which many end up empty-handed. Many just don't offer at all.
When individuals are ready to submit an offer, there are many different types of buyers they might be competing against. There is the buyer who might have just begun looking, who submits an offer under asking. This unfortunately drives up the purchase price, as they appear to be competition. There are usually a couple of strong offers over asking, some with conditions and some without, and these are probably in and around the true market value of the home.
Sometimes, one of the offers is substantially higher than that of the closest competitor. That offer can be $10,000, $25,000, $50,000 and in some rare circumstances in excess of $100,000 more than the next highest offer, usually with no conditions, or what we call a "firm deal." This buyer is not just any buyer, but the "Right Buyer."
This Right Buyer is what every listing agent and seller dreams of. He or she is often fed up with looking, fed up with losing other properties, and in some cases is an investor or foreign buyer. The public is led to believe that all properties are selling for hundreds of thousands of dollars over the asking price, but the important question to ask is how much the home sold over market value. Market value is much different than asking price.
Regardless, many buyers are sitting on the sidelines waiting for demand to lessen, supply to increase or rules to change so there is transparency within the offer system.
If you are a prospective buyer, choose to work with a realtor who will leave no stone unturned.
Elsewhere in the world, like in Australia for example, agents choose between arranging a traditional offer or hosting an open auction. Just like an art auction the house goes up for sale with a starting price, and a crowd openly auctions for it. Everyone can hear what the top bid is, and the choice is theirs if they want to go higher. Having a system like this could certainly end the hysteria and the act of overpaying for a property. The Right Buyer would have to outbid his or her competition, but would know by exactly how much, so we probably wouldn't see someone outbid their closest competitor by ridiculous amounts, as they wouldn't have to.
Would something like this work in Toronto? On The Block thinks so, and it's about time to give Ontario some choice. It isn't about whether the market is 'hot', 'cold', 'cooling', 'a bubble' or a goldmine', the key is that the market has been dictated for buyers and sellers by fictitious figures and a nontransparent system. Opening it all up means buyers aren't scared away, and fair competition will rule.
In this lively market, it is that much more imperative to choose the right real estate agent. Sellers, interview several prospects. Choose someone who knows how to make your home stand out and can find you that Right Buyer to get you the best price for your home. Be sure they have a steadfast marketing plan and they go over the shortfalls of the standard listing agreement.
If you are a prospective buyer, pay attention to comparable properties that have sold, ask a lot of questions, and don't feel like you are being rushed. If you aren't comfortable, there is a reason for that. Circumstances are different for anyone, for a purchase this important, you shouldn't become the "Right Buyer" by virtue of coercion or unreasonable deadlines.
With Excerpts Originally Published at torontostories.com by Leslie Tokayer